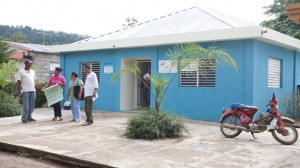 The health centers are located in the communities in the rural areas which we serve; planned, built, equipped, and organized by Mision ILAC and the communities themselves. They are maintained thanks to national and international donors, functioning primarily as basic care facilities for health related services. They are, at the same time, a base for the community health programs and a concrete place where proper medical attention can be provided.
Construction is resilient, as they are built with concrete blocks, wood, and aluminum. The centers provide sanitary services for the proper maintenance of adequate levels of hygiene, for the prevention of infection and for the proper care of the facilities to provide safe and secure medical attention. Depending on the support and care of the community who are the only and true owners.
Located in the fields and mountains, the centers are not solely staffed by the members of the Mision ILAC team. Groups of health care professionals from foreign universities visit these facilities and live among the communities, while providing medical services both at the sanitary health centers and at private homes. This experience is unique and rich with human interaction, new experiences and culture, and engenders long term friendly relationships with huge benefits for both the visitors and for the families.