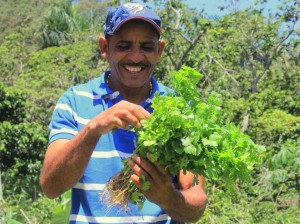 Orchards and small farms are a system which benefits the nutritional and the economic situation of farmers. Depending on its dimensions and level of productivity they can provide a variety of vegetables and meat throughout the year. The products from the orchards and from the farms allow families to consume their own production and reduce their grocery bills. In addition, they can generate additional income because of the high quality their products.
To support this production initiative, ILAC Mission has developed a program of orchards and small farms and educational activities that help families with their knowledge of nutrition, eating habits, hygiene to improve their health and well-being, reducing the lack of nutrition for adults as well as for adults.
Ms. Nini is one of the women who benefits from this project. Her small farms include green peppers, lettuce, "recao", as well as laying hens. She consumes the products daily. "This is a blessing from God. Now I can produce almost everything I consume and sell the extras. I am eating better and the money goes further" she explains with a grin.
Location of program
The communities which are benefitted with this agricultural plan are located in the Cibao Valley in the central and northern mountain ranges of the Dominican Republic. Almost 70% of the soil is rocky and eroded with great deforestation problems. In the majority of these mountainous communities, the temperature throughout the year is between 20 and 12 degrees Celsius, adequate for growing vegetables which, with the appropriate techniques, will conserve the soil. In these rural areas, farmers live from agriculture; predominant are coffee, beans, fruit.