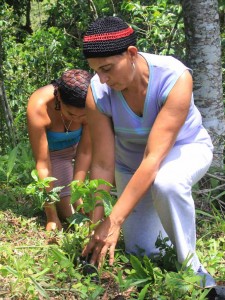 The economic well being of the community is also part of the ILAC mission philosophy. This implies that a healthy environment is the basis for human development. For this reason part of the initiatives that are developed in agricultural and production areas promote reforestation as support of hydrographic micro basins and mountain regions.
In the project for coffee seedlings using a germinator, ILAC will absorb the cost of the terrain and the personnel that will work in the production of seedlings. It will take care of the distribution of the more than 15 mountain communities with the purpose of reforestation while at the same time supporting coffee production.
The germinator-greenhouse, will have a germination system with a construction area of 640 meters and automated irrigation system for a better seedling performance.
The project will benefit 15 communities and 60 farmer/producers with a capacity of 200,000 coffee seedlings of the "caturra" variety with which reforestation will take place.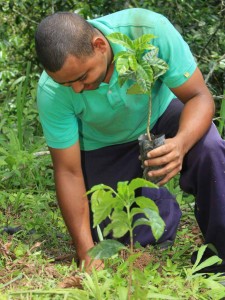 This project comes about because of the need to support coffee growers and at the same time it contributes to the reforestations of the mountain regions where ILAC supports the communities with other productive activities.
The project will take place specifically in the communities of Las Lagunas, Jamamú, Sabaneta, Rincón de Piedra y Mata Grande from the municipality of San José de las Matas; also in the communities of Bejucal and Lora de Jánico; Palo Quemado, Arroyo del Toro de Tamboril: Las Cruces de Jarabacoa; Pedro García e Altamira; Palma Herrada, Racho de los Plátanos de Villa Trina; Arroyo Seco de Tenares y la Sidra de Toma de Monción.
Carrying out the process is the responsibility of the ILAC agricultural technicians.
The objective of the construction of the coffee germinator, is the production of seedlings of the "caturra" variety to contribute to the reforestation of 15 mountain communities where the ILAC Mission puts forth community support in other vital areas.